3 New Arrivals Silicone Products-Mitour Silicone
2023-06-29
In the ever-evolving world of consumer products, silicone has emerged as a versatile and highly sought-after material. Its durability, flexibility, and non-toxic properties make it ideal for a range of products. In this blog post, we will be taking a close look at 3 new arrivals in the realm of silicone products.
What is Silicone?

Silicone is a synthetic polymer made up of silicon, oxygen, carbon, and hydrogen. Its resilience to extreme temperatures, resistance to water, and flexibility make it a superstar in the manufacturing sector. Imagine a rubber band that doesn't crack, melt, or get weirdly sticky. That's silicone for you!


The Manufacturing Process
1.Choosing the Right Silicone Material

There are different types of silicone materials, each with its own superpower.
Liquid Silicone Rubber (LSR): This is perfect for products that need high precision, like medical devices. It's like the surgeon's scalpel – sharp and accurate.
High-Consistency Rubber (HCR):Ideal for making durable goods like seals and gaskets. Imagine this as the shield that guards the fortress.

2.Mold Design and Creation
Making a silicone product is like baking – you need a mold to give it shape!
Injection Molding: This method involves injecting silicone into a mold under pressure. It's like using a syringe to fill a water balloon.

Compression Molding: Here, silicone is placed in a mold and compressed to take shape. Think of squishing playdough into a cookie cutter.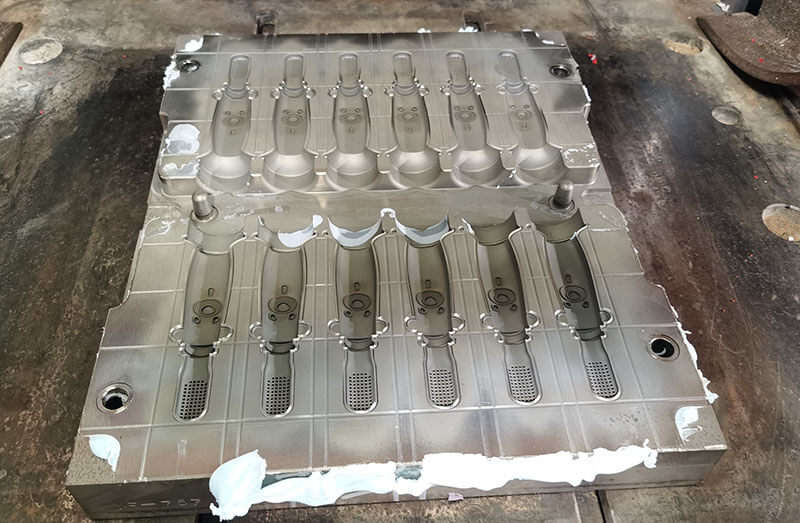 3.Curing Process

This is the part where your silicone product becomes a real boy, like Pinocchio!
4.Oven Curing
Just like baking cookies, you place the silicone in an oven to cure. The heat turns it from a dough into a solid product.
5.Finishing Touches
Trimming, printing, packaging, and quality control make your product look pretty!
3 New Arrivals Silicone Products



Bone Conduction Baby Music Toothbrush:
First on the list is the Baby Music Toothbrush. As the name suggests, this product is specifically designed for infants. What sets this toothbrush apart is its ingenious integration of music into the brushing process. Made from soft silicone, the toothbrush is gentle on an infant's delicate gums. The added feature of music makes the often daunting task of brushing an enjoyable activity for the little ones. This not only keeps them entertained but can also instill a positive association with oral hygiene from a young age.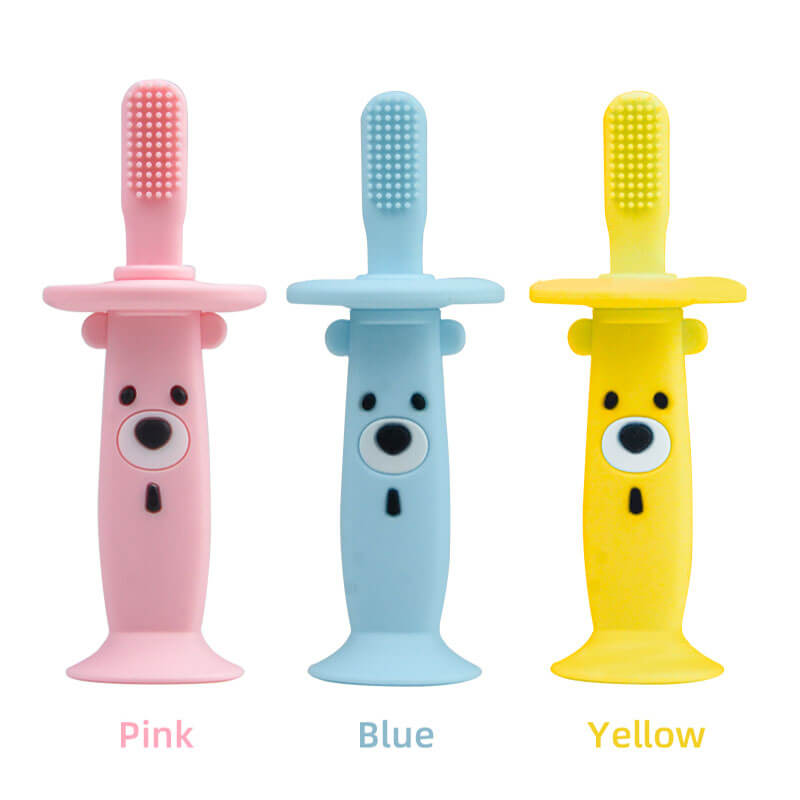 Key Features:
-The first bone conduction music toothbrush on the market, Built-in musical component, exclusively patented.
-Bear patterns, beautiful music, and gentle vibrations capture and hold the baby's interest and can stimulate the oral senses, making your baby love brushing.
-It has a suction cup base to keep the toothbrush upright for easy countertop storage.
-The soft, food-grade silicone material is gentle on the baby's sensitive mouth. Designed for infants, toddlers, and preschoolers ages 6 months to 4 years! This toothbrush features a double-sided design with super soft silicone bristles that massage and soothe soft gums while baby chews, keeping teeth and gums clean and healthy.
-The rounded safety guard baffle prevents the toothbrush head from entering the baby's mouth too much, making it safe and secure. The product is waterproof, safe to charge, and convenient.
Production Process:
Penguin Snack Learning Cup:
Next up is the Penguin Snack Learning Cup. This adorable product is multifunctional, serving as both a drinking cup and a snack container. Shaped like a penguin, it is sure to be an instant hit with the kids. The cup is made from durable silicone, which is known for its resistance to stains and odors. The spill-proof design and easy-grip handles make it perfect for little hands still mastering the art of holding a cup.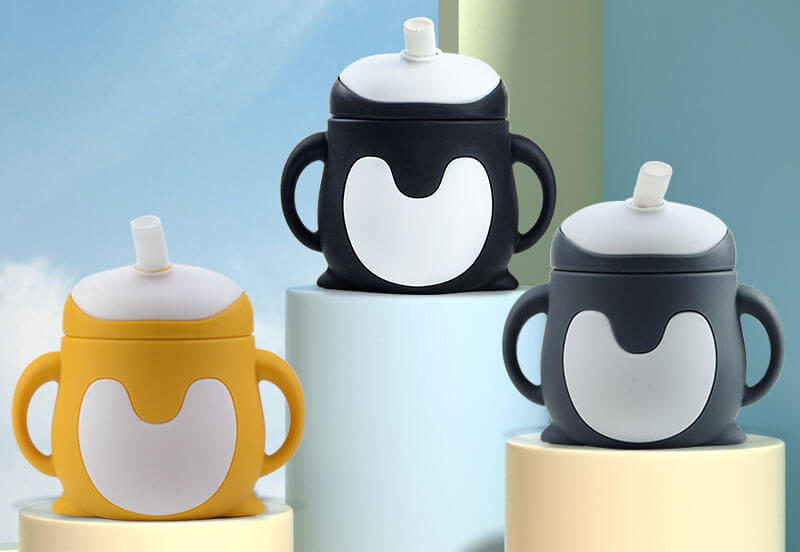 Key Features:
-Multifunctional – can be used for snacks and drinks
-Cute penguin design
-Spill-proof
-Made from durable silicone
Production Process:


Holiday-Style Silicone Water Bottle:
Holiday-Style silicone water bottle is based on our popular patented water bottle with a festive design. Last but certainly not least is the Holiday-Style Silicone Water Bottle. This product is not just functional but also stylish. Made from high-quality silicone, the bottle is lightweight and durable. The holiday-themed design adds a touch of festivity, making it the perfect accessory for your holiday getaways. Moreover, the collapsible design makes it easy to store and carry around.
Key Features:
-Halloween, Thanksgiving, and Christmas holiday theme design makes the kettle look more exciting and become the first choice of holiday gifts

-Safe and Durable Material - Made from BPA-FREE food-grade silicone to ensure safe drinking. Great for both hot and cold drinks.
-Space-Saving Collapsible Design – My Mitour Silicone Water Bottle can collapse from 24cm to 14cm in height.
-Perfect For Travel & Sports -Comes equipped with an aluminum alloy carabiner so it easily hooks to your backpack or gym bag - making it perfect for the gym, biking, camping, fishing, hiking, and more.
-Leak-Resistant & Easy TO Clean - Designed to prevent leaks. Wide-mouth design makes water bottles easier to clean. Please clean thoroughly before first use.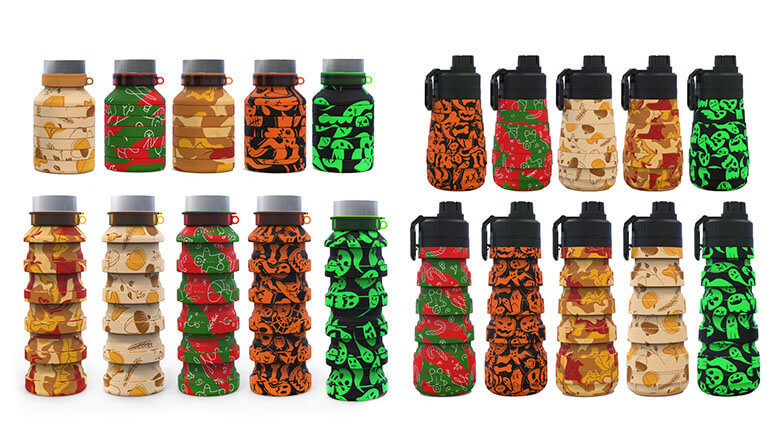 Conclusion
These three new arrivals in silicone products demonstrate the versatility and innovation that silicone brings to the table. Whether it's making tooth brushing fun for infants with the Baby Music Toothbrush, teaching kids to drink with the Penguin Snack Learning Cup, or staying hydrated in style with the Holiday-Style Silicone Water Bottle, these products are sure to be a hit. Keep an eye out for these innovative and functional silicone products!
Mitour factory's production capacity can comfortably handle bulk orders, and we are committed to fulfilling them promptly without compromising quality. We provide flexible customization options to cater to your unique requirements, further strengthening our promise of delivering customer satisfaction. Take advantage of our factory-direct supplies and enjoy uncompromised quality, competitive pricing, and a streamlined procurement process. Contact us today for a free sample!