China LFGB Approved Silicone Teether
2023-06-15
1. What is LFGB Certification?
LFGB Certification stands for "Lebensmittel-, Bedarfsgegenstände- und Futtermittelgesetzbuch" in German, which translates to "Food, Commodities, and Feed Code" in English. The LFGB is a German regulation set by the Federal Ministry of Food and Agriculture that oversees the safety and quality of food, commodities, and animal feed products.
In the context of manufacturing and trade, an LFGB Certification ensures that a product complies with the strict regulations of the LFGB, particularly focusing on product safety and consumer protection. This often applies to products that come into direct contact with food, such as kitchen utensils, appliances, food packaging, and similar items. The certification assesses whether these products contain substances that could potentially migrate into food and pose a risk to human health.
The certification process usually involves a series of stringent tests conducted by recognized laboratories. If the products pass these tests, they are LFGB certified, which implies they are free from harmful substances and safe for use. The LFGB certification can help to build consumer trust and gain easier access to the European and German markets.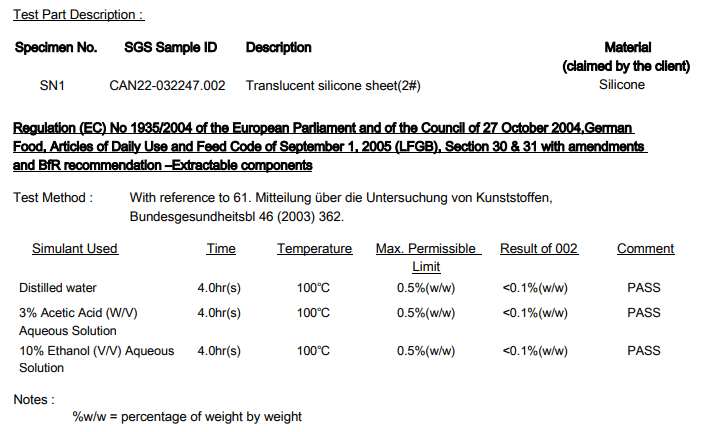 Mitour LFGB Test Report.pdf
2. The LFGB Testing Process
The LFGB testing process in China should follow the same rigorous standards as in Germany since the certification aims to comply with the German Food, Commodities, and Feed Code (LFGB). Manufacturers or exporters looking to access the German or European market would typically adhere to these regulations.
Below are the general steps involved in the LFGB testing process:
(1) Sample Submission: The manufacturer or supplier provides product samples to an accredited testing laboratory. This laboratory should be capable of carrying out LFGB testing per German regulatory standards.
(2) Documentation Review: The laboratory reviews product documentation, including a detailed list of the materials and substances used in its products and their concentrations.
(3) Physical Testing: The laboratory conducts physical tests, simulating normal and stressful usage conditions. The product should be durable and capable of withstanding regular use without releasing harmful substances.
(4) Chemical Analysis: Using advanced techniques like gas chromatography and mass spectrometry, the product undergoes chemical analysis to detect harmful substances that could migrate into food or harm human health.
(5) Evaluation: Test results are evaluated against the LFGB standards. If the product meets or exceeds all the criteria, it complies with the LFGB.
(6) Certification: If the product passes all tests and evaluations, the laboratory will issue an LFGB certificate. This certificate verifies that the product complies with the LFGB and is safe for use.
It's worth noting that the LFGB testing process may vary slightly depending on the specific product and testing laboratory. Furthermore, once a product is LFGB certified, periodic testing may be required to ensure ongoing compliance, especially if any changes have been made to the product design or materials.
Always work with accredited and recognized laboratories for LFGB testing to ensure accurate testing and reliable results.




3. LFGB Approved Silicone Teethers: Why They Matter
Infants often use silicone teethers during the teething phase to soothe their gums and promote dental growth. As these products are put into children's mouths, it's paramount that they're made from safe and non-toxic materials.
LFGB-approved silicone teethers matter because the LFGB certification assures parents and caregivers that the product has undergone stringent testing and is free from potentially harmful substances. As these teethers come into direct and prolonged contact with a baby's mouth, they could pose a risk if they contain harmful materials that could migrate into the child's system.
Here's why LFGB-approved silicone teethers are essential:
Safety: The primary reason is safety. LFGB-approved silicone teethers ensure the product is free from harmful substances such as phthalates, heavy metals, and other toxic chemicals. This means the teether is safe for a baby, even when chewed on for extended periods.
Trust: LFGB approval is widely recognized and trusted. Seeing this certification on a product can give parents and caregivers peace of mind, knowing the product they're using for their baby has been tested and approved by an authoritative body.
Quality: LFGB certification also ensures quality. Products must be durable and able to withstand repeated use without degradation. This is particularly important for silicone teethers as they need to endure constant chewing and saliva exposure without breaking down or leaching any substances.
Market Access: LFGB certification facilitates market access for manufacturers and distributors, especially in Europe. Many retailers and consumers prefer or require LFGB-certified products for guaranteed safety and quality.
Regulatory Compliance: Finally, LFGB certification ensures regulatory compliance. If a product fails to meet these standards and a problem arises, the manufacturer could face legal consequences.
In conclusion, LFGB-approved silicone teethers matter because they ensure the highest level of safety and quality for products that will be used by infants, one of the most vulnerable groups. With an LFGB certification, parents and caregivers can have confidence in the safety of the product they're providing to their children.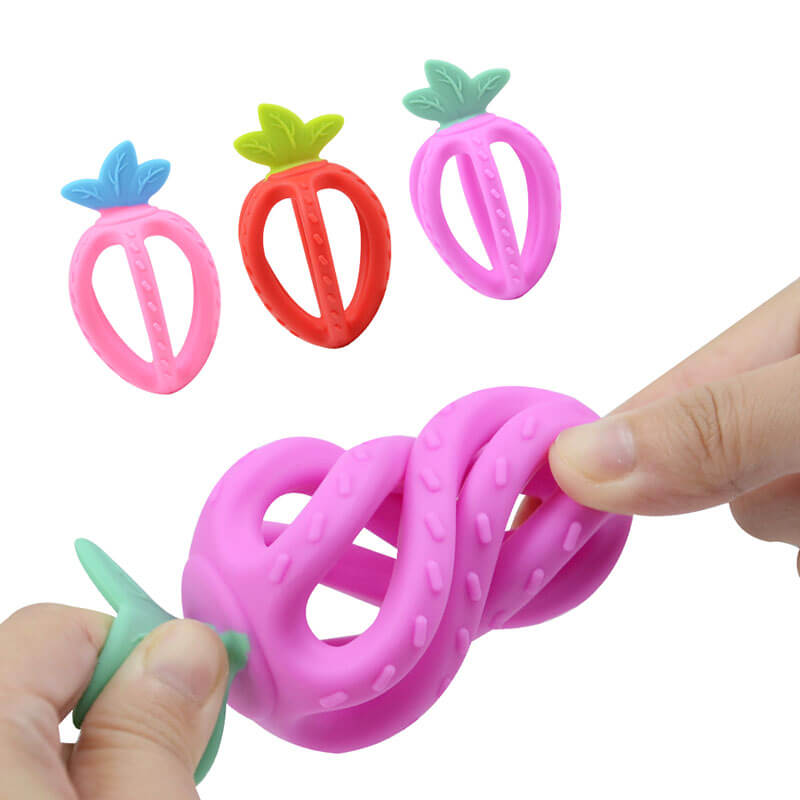 4. The Advantages of LFGB-Approved Silicone Teethers
LFGB-approved silicone teethers have several key advantages, not only for consumers but also for manufacturers and retailers. These benefits stem from the rigorous testing and standards required for a product to receive LFGB certification:
Safety Assurance: LFGB certification guarantees that the silicone teether is free from harmful substances such as heavy metals, phthalates, and other toxic materials. This is crucial for baby products since they're often chewed or sucked on for long periods, increasing the potential for harmful substances to leach into the baby's mouth.
High Quality: LFGB standards ensure the silicone teether is safe but also high-quality and durable. The teether should withstand frequent use and be clean without losing shape, color, or functionality.
Consumer Confidence: Parents are more likely to trust and purchase a product for their child if it has been thoroughly tested and certified safe by a reputable body. LFGB certification can increase consumer confidence and product credibility.
Market Advantage: For manufacturers and distributors, having LFGB-approved products can provide a competitive advantage, especially in markets like Europe, where safety standards are particularly high. It can enhance the product's appeal and broaden market access.
Regulatory Compliance: LFGB approval ensures that the product complies with specific regulations in place for child safety. This can protect the manufacturer and retailer from potential legal complications from selling non-compliant products.
Transparency: With LFGB certification, manufacturers must disclose all materials and substances used in their products. This provides a level of transparency that can benefit consumers who are mindful of what they're purchasing for their children.
In summary, LFGB-approved silicone teethers provide high safety and quality assurance, instill greater consumer confidence, offer market advantages for manufacturers and retailers, and promote transparency. As a result, they contribute significantly to the well-being of infants and the peace of mind of parents and caregivers.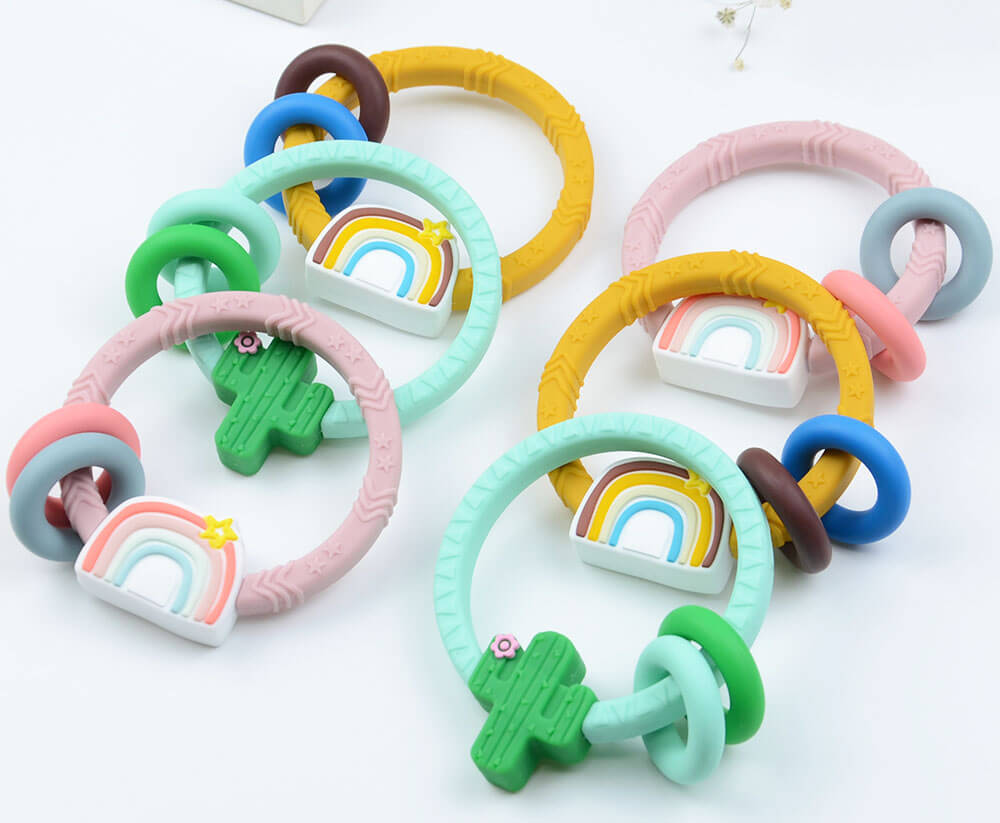 5. How to Choose an LFGB-Approved Silicone Teether in China
When choosing an LFGB-approved silicone teether in China, there are several factors you should consider to ensure the teether is safe, effective, and comfortable for your baby. Here are some tips:
Check for LFGB Certification: The first and foremost step is to verify that the silicone teether is LFGB certified. This certification ensures the teether is free from harmful substances and has undergone rigorous testing. The product packaging or product description should indicate the LFGB certification. If unsure, you can ask the retailer or contact the manufacturer for confirmation.
Quality of Material: The teether should be made of high-quality, food-grade silicone free from BPA, PVC, phthalates, and other harmful substances. It should be durable, easy to clean, and withstand constant chewing and saliva exposure without breaking down or losing shape.
Size and Shape: Choose an appropriately sized and shaped teether for your baby's mouth. It should be easy for your baby to hold and chew. Avoid teethers with small parts that could be a choking hazard.
Comfort and Ease of Use: The teether should be comfortable for your baby. Some teethers have textured surfaces or soft edges to soothe the baby's gums. Also, ensure the teether is easy for your baby to grip.
Design and Aesthetic: While not as important as safety and comfort, choosing a teether with an attractive design or bright colors can keep your baby interested and engaged.
Cleanliness and Hygiene: The teether should be easy to clean and maintain. Some silicone teethers are dishwasher-safe, which can make cleaning more convenient.
Brand Reputation: Consider buying from a well-known and reputable brand. Check for reviews and testimonials from other parents to get an idea of the product's quality and performance.
Temperature Resistance: Some silicone teethers can be chilled or frozen, providing additional relief for a teething baby. If you want this feature, make sure the teether you choose is safe to put in the fridge or freezer.
Remember, each baby is unique and may react differently to different types of teethers. Finding the perfect teether for your little one might take some trial and error. Always supervise your baby while using a teether to ensure their safety.

If you have any specific material requirements for the development of your own products, please contact us and let us know in advance. We can provide raw material test reports upon request. Regarding finished products, we do not offer test reports, but we can provide customer samples for you to conduct the necessary tests.


Mitour Silicone:
Mitour as a Leading
silicone teether supplier/manufacturer
with18 years experience in the silicone products industry, 6500m² factory; 100+ employees; 30+ sets of professional production equipment; 10+ sets of testing equipment.
ISO9001, BSCI, Disney, Wal-Mart factory inspection; product certifications: FDA, CPC, BPA FREE, LFGB, ROHS, etc., 100+ product patents; 100+ annual new products;
Free product development program, packaging design, support customization, ODM/OEM services, low MOQ.
With rich experience in cooperation with Wal-Mart, Disney, Amazon, Target, Nestle, P&G, and other first-line brands.




FAQ
1. Are LFGB-approved silicone teethers safe?
Yes, LFGB-approved silicone teethers are considered safe as they meet the highest safety standards set by German law.
2. Why should I choose an LFGB-approved silicone teether for babys?
Choosing an LFGB-approved silicone teether ensures that the product babies is using is free from harmful substances, ensuring their health and safety.
3. Where can I find LFGB-approved silicone teethers?

You can find LFGB-approved silicone teethers in baby stores and online shopping platforms. However, ensure the product is indeed LFGB certified by checking for the certification mark.