Top10 Silicone Manufacturers / Suppliers In the USA (2023)
2023-04-01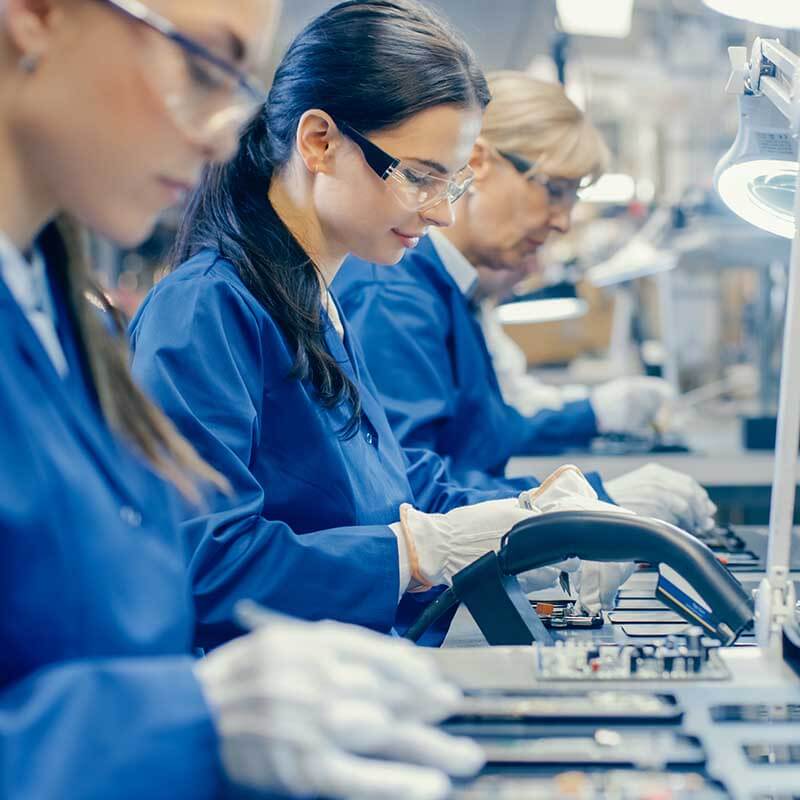 There are numerous companies in the silicone industry, and it can often be difficult for us to determine which ones excel in their field. We've compiled a list of top 10 silicone product manufacturers in the USA to help you find the ideal supplier for your needs, focusing on companies that produce silicone products, not raw materials.
Overview of Silicone Manufacturers / Suppliers In the USA (2023)
Based on our years of experience in the industry, we have compiled a list of 10 top-notch silicone manufacturers in the US. Included in the information, you'll find details on each company's location, year founded, main product and website of activities.

| Company Name | Founded | Address | Main Products | Website |
| --- | --- | --- | --- | --- |
| Apple Rubber Products | 1971 | Lancaster, New York | O-rings, custom seals | https://www.applerubber.com/ |
| ARCO Silicone | 1923 | Hot Springs, AR 71901 | Silicone rubber products | https://arcosilicone.com/ |
| Boyd Corporation | 1928 | Pleasanton, CA 94588 | Thermal interface materials, gaskets, and seals | https://www.boydcorp.com/ |
| Extreme Molding | 2002 | Watervliet, New York | Silicone molded products | https://www.extrememolding.com/ |
| RD Rubber Technology | 1986 | Santa Fe Springs, California | Rubber molding, extrusions | https://www.rdrubber.com/ |
| Reiss Manufacturing, Inc | 1946 | Blackstone, Virginia | Silicone rubber, extrusions | https://www.reissmfg.com/ |
| Silcotech | 1984 | York, South Carolina | Silicone components | https://www.silcotech.com/ |
| Simtec Silicone Parts | 2000 | Miramar, Florida | LSR injection molding | https://www.simtec-silicone.com/ |
| Stockwell Elastomerics | 1919 | Philadelphia, Pennsylvania | Silicone gaskets, foam, rubber | https://www.stockwell.com/ |
| Vanguard Products Corp | 1963 | Danbury, Connecticut | Custom rubber seals, gaskets | |
Apple Rubber Products

Apple Rubber Products, Inc., a leading manufacturer based in Lancaster, New York, specializes in custom-molded rubber and silicone components such as seals, gaskets, and O-rings. Established in 1971, the company has become a prominent industry figure, known for its high-quality products, innovation, and outstanding customer service.
Serving a diverse range of sectors like aerospace, automotive, healthcare, and industrial manufacturing, Apple Rubber Products is committed to delivering top-notch quality and service. The company's ISO 9001:2015 certification ensures the highest standards in product quality and consistency.
Aside from custom-molded components, Apple Rubber Products also provides an array of standard products, including O-rings, gaskets, and seals in various materials and sizes to accommodate customer needs. Their comprehensive online catalog makes it convenient for customers to find the perfect products for their specific applications.
ARCO Silicone
ARCO Silicone, a US-based custom silicone manufacturer with over a century of experience, delivers high-quality materials and expert craftsmanship in their products. Specializing in custom extrusions such as tubing, profiles, sleeves, silicone vacuum and coolant hoses, sponges, cords, bands, and seals, the company also offers foam silicone products to cater to various customer requirements.
Established in 1923 as Alliance Rubber Company, ARCO Silicone has been producing custom extrusions for nearly a century, consistently providing reliable products and services. Their dedication to quality is reflected in their use of cutting-edge technology and processes that ensure consistent results. Alongside their top-notch products, ARCO Silicone takes pride in offering quick order turnaround times and the smallest minimums available in the market.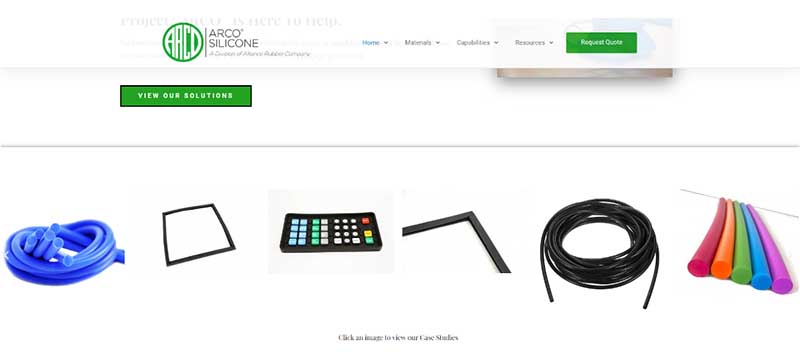 Boyd Corporation
Boyd Corporation, a leading global manufacturer based in Modesto, California, specializes in custom-engineered thermal management and sealing solutions, including silicone-based products like thermal interface materials, gaskets, and seals. Established in 1928, the company operates additional locations across the US, Europe, and Asia.
Catering to various industries like automotive, aerospace, electronics, and medical devices, Boyd Corporation develops high-performance products tailored to customers' unique needs. Their products enhance thermal performance, boost energy efficiency, and safeguard sensitive electronic components from heat and other environmental factors.
Their thermal management products comprise thermal interface materials that help dissipate heat from electronics, ensuring optimal performance and reliability. They also provide custom-designed heat sinks and other thermal management solutions tailored to clients' specific requirements.
Boyd Corporation also offers a wide array of sealing solutions, such as gaskets and seals, that protect electronics and other components from moisture, dust, and other environmental factors. Designed to withstand extreme temperatures, pressures, and chemical exposure, their products serve various critical applications.
Committed to innovation, quality, and exceptional customer service, Boyd Corporation has a solid reputation for delivering innovative and reliable solutions. With ISO 9001 and ISO 14001 certifications, the company guarantees that its products adhere to the highest quality and environmental responsibility standards.
Extreme Molding

Extreme Molding, a women-owned injection molding supplier in the United States, was established in 2002. As one of the industry's leading providers, the company offers a wide range of services, including silicone injection molding, overmolding, compression/transfer molding, packing and fulfillment, as well as color matching. Their product offerings span various sectors, encompassing silicone consumer goods, healthcare products, promotional items, and pet products.
With a strong commitment to delivering exceptional quality and customer service, Extreme Molding has earned a reputation as a trusted partner for clients across multiple industries. Their expertise in the field of injection molding, combined with their unique ability to adapt to customers' specific needs, has set them apart from their competitors. As a result, they have become a go-to provider for businesses seeking innovative solutions for their silicone product needs.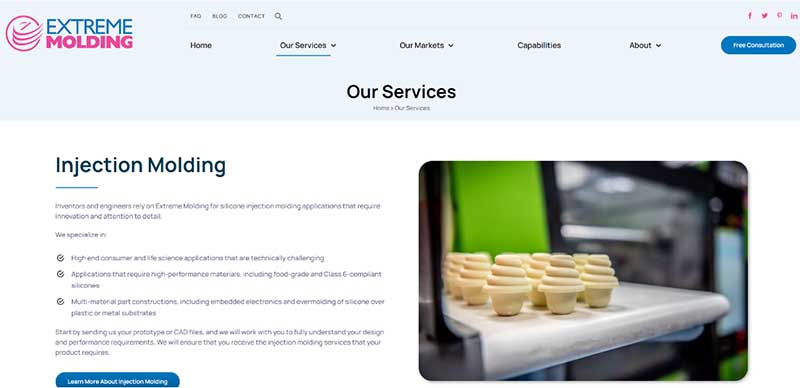 RD Rubber Technology
Founded in 1986, RD Rubber Technology is a specialized company focusing on custom precision-molded rubber applications for various industries, including defense, military, aerospace, government, nuclear, food processing, life sciences, medical instruments, pharmaceutical, biopharmaceutical, pump, and semiconductor sectors. Their main product offerings consist of seals, O-rings, gaskets, grommets, latches, valves, diaphragms, and poppet assemblies.
RD Rubber Technology employs materials such as synthetic rubber, silicone rubber, and natural rubber to create high-quality, precision components that cater to the specific needs of their clients. With their expertise and commitment to excellence, the company has earned a strong reputation as a reliable supplier for a diverse range of industries, ensuring that their customers receive top-notch products that meet or exceed their expectations.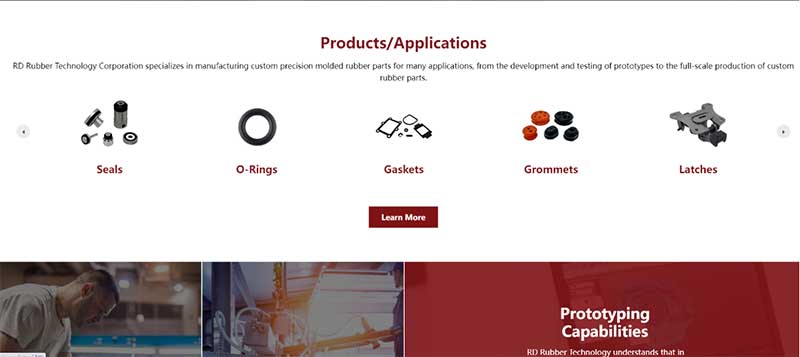 Reiss Manufacturing, Inc.
Reiss Manufacturing, Inc., a subsidiary of Reiss Corporation, operates two divisions: the Silicone Rubber Division (founded in 1946) and the Thermoplastic Extrusion Division (founded in 1954). The silicone division excels in formulating silicone compounds and molding, extruding, and calendering silicone and related polymer products. Their offerings include O-rings, rubber grommets, rubber gaskets, rubber seals, and over-molded parts with metal or plastics such as spacers, custom molded shapes, and parts, tubes, and wraps.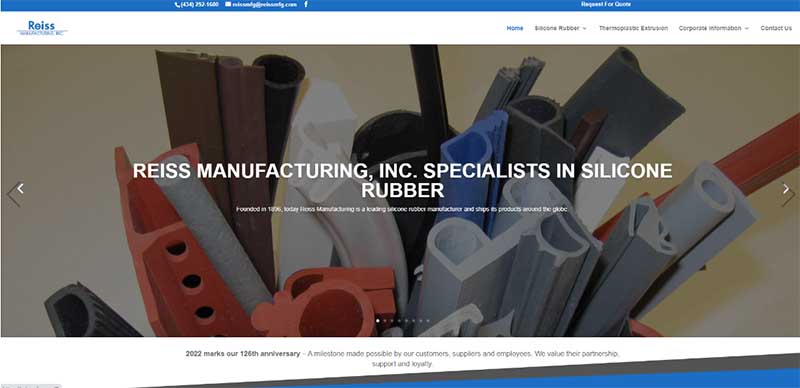 Silcotech
Silcotech (founded in 1984) holds a global leadership position as a provider of top-notch liquid silicone injection molding solutions, catering to various industries such as medical/healthcare, automotive, packaging, consumer, and consumer electronics. The company sets itself apart by acting as a partner rather than just a supplier, focusing on adding value for its customers.
Their core competency lies in providing single-source silicone injection molding solutions for mass production while simultaneously introducing customers to innovative design and engineering strategies. Silcotech specializes in mass production, product development, and prototyping, offering expertise in a wide range of manufacturing processes and in-house customized tooling design.
Silcotech is committed to delivering timely prototypes and ensuring that liquid injection molding projects are successful and tailored to clients' budget requirements. Their standard liquid injection molding services encompass product design and development assistance, fast and economical prototyping, extensive mold-making expertise, two-shot molding, precision micro molding for small parts, and a variety of related operational and manufacturing services for single-source production and project coordination.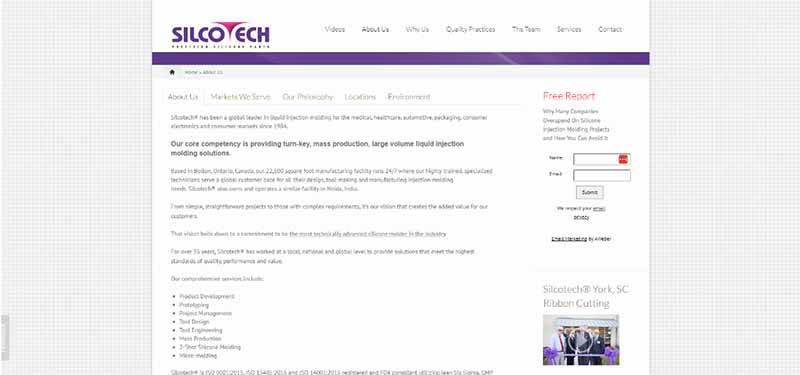 Simtec Silicone Parts
Simtec, established in the early 2000s, is a leading Liquid Silicone Rubber (LSR) company offering turnkey solutions for businesses requiring customized injection molding. Over the years, Simtec has built a strong reputation as a trusted name in the industry.
Focusing on producing high-quality silicone parts and components for various sectors, such as automotive, medical, consumer electronics, and aerospace, SIMTEC also provides design services and engineering support to assist clients in developing custom products.
Through a partnership with ANSYS, Simtec offers simulation software and services, enabling customers to test their designs before moving to production, ultimately leading to well-informed product design decisions. The company also supplies an array of additional services and products, including comprehensive prescribing information on cetirizine, air data systems, pitot-static probes, flow vanes, flying theater simulators, driving simulators, and sterile cleanroom gloves.
Stockwell Elastomerics
Stockwell Elastomerics, a renowned manufacturer of bespoke silicone and rubber products, boasts a long-standing history since its establishment in 1919. Situated in Philadelphia, Pennsylvania, the company takes pride in crafting high-quality gaskets, seals, and other precision components tailored to various industries such as aerospace, defense, electronics, and medical.
With an unwavering commitment to innovation, Stockwell Elastomerics is celebrated for its top-notch products, acclaimed for their resilience, flexibility, and ability to withstand harsh temperatures and environments. The company's dedicated team of engineers and technicians collaborate closely with clients, devising custom silicone and rubber solutions that cater to their distinct needs.
In addition to its impressive product range, Stockwell Elastomerics also provides a slew of value-added services, encompassing design and engineering support, prototyping, and testing to help clients bring their visions to life. The company's steadfast dedication to quality is evident in its ISO 9001:2015 and AS9100D certifications, ensuring that its products consistently meet the most stringent quality and compliance standards.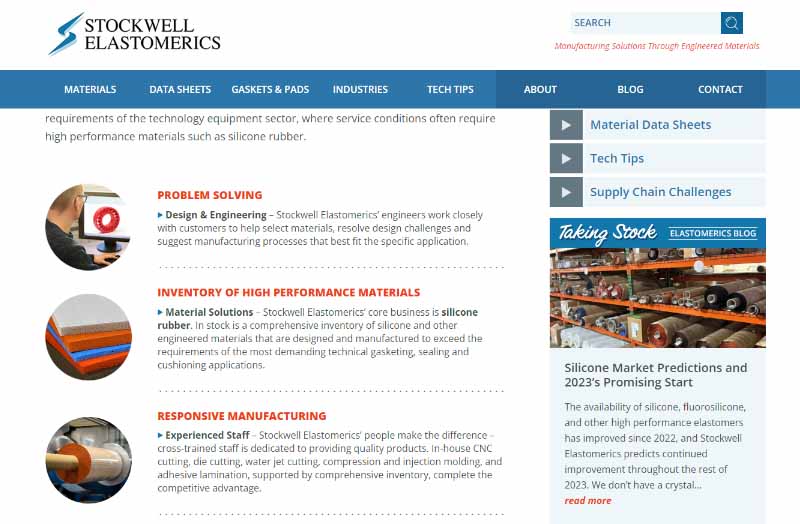 Vanguard Products Corp
Vanguard Products Corporation is a top-notch producer of bespoke rubber and silicone items, such as gaskets, seals, extrusions, and molded parts. Established in 1963, this premier company is based in Danbury, Connecticut.
Renowned for crafting high-quality, tailor-made products that cater to the specific requirements of clients across diverse sectors like aerospace, defense, automotive, and medical, Vanguard Products Corporation's offerings are celebrated for their resilience, adaptability, and ability to withstand extreme temperatures and harsh environments.
Beyond its impressive product range, Vanguard Products Corporation also provides an array of value-added services, including expert design and engineering assistance, prototyping, and testing to support customers in realizing their visions. Upholding an unwavering commitment to excellence, the company boasts ISO 9001:2015 and AS9100D certifications, which attest to its adherence to the most stringent quality and compliance standards.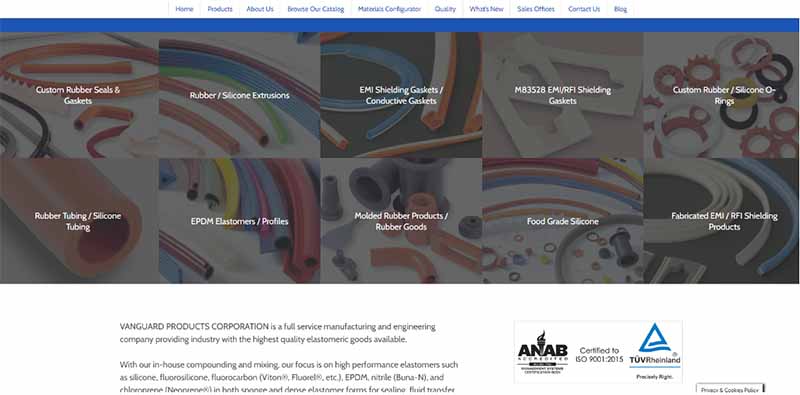 Want to Purchase from China?
The USA is home to outstanding silicone manufacturers, while China stands as the largest exporter of silicone products globally. If you're in search of a reliable and seasoned silicone manufacturer in China, look no further than Mitour. With an established reputation for supplying top-notch products and delivering unparalleled customer support, Mitour has cemented its position as a leading contender in the silicone market. Contact us today to learn more!